Hands On Reviews
Sure the marketing hype sounds good, but there's nothing like hands on reviews to discover the truth about a product.
In addition to providing key technical specifications and pricing, these hands on reviews are the result of guitarists like you grabbing the new gear and putting it to the test. Check them out, and check back often for new reviews. You can also sign up for our RSS Feed (what's this?) if you use a news reader or RSS-ready browser, or sign up for our monthly newsletter.
JamPlay For Bass Guitar Lessons
Jamplay.com has long been a stand-out among the online six-string guitar lessons site. When they recently added bass guitar lessons, I was intrigued. Thankfully, they provided an all-access guest login. I jumped in, and now can provide my review. I hope you enjoy it... Read more...
Intellitouch PT30 Headstock Tuner For Guitar or Bass
If you believe that perfection is developed over time, you might be interested in the Intellitouch PT30 tuner from OnBoard Research. OnBoard Research introduced the first "contact" tuner back in 1997. Until then, electronic guitar tuners used two common methods to detect pitch: a built-in microphone, or a direct connection from your instrument. Read more...
SOS Strobe Tuner for Guitar or Bass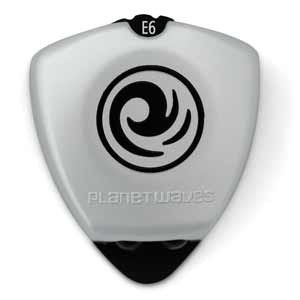 The SOS Strobe Tuner from Planet Waves is a unique product. It is pocket sized, and looks as though you are getting a guitar-pick shaped flashlight. Even when people realize it is a tuner, many will assume it is little more than a novelty item. They do not realize this little wonder is one of the most accurate tuners on the planet and it costs less than $20. Read more...
The Scratch Pad Guitar Finish Protector

The Scratch Pad promises to be a self-adhesive pad that puts a thick layer of protection between your guitar and the many abrasive surfaces that can destroy the finish. How does it work? What is it like in everyday use? Find out by reading our in-depth Hands On Review of the Scratch Pad...
The Wing-Pick Takes On Standard Picks
Every once in a while an inventive mind goes beyond the day-dream stage to manufacture and market something entirely new and unique. Such is the case with the new Wing-Pick. But, how well does it perform when compared with the competition that it hopes to de-throne? Find out if it takes wing, or crashes and burns in our Hands On Review of the Wing-Pick.
Planet Waves Metronome Tuner (PW-CT-08)
Now that tuners are compact and electronic, manufacturers are working to add features. Such is the case with the new Metronome Tuner from Planet Waves (model PW-CT-08). But is small better? How many features do guitarists need? How well does this tuner perform? Those were some of my questions as I opened the package containing my newest tuner. Read the latest Hands On Review here...
Guitar Pro 5
The folks at Arobas Music advertise Guitar Pro 5 as "All the tools you need to Progress, Compose, and Accompany yourself". Is this mult-track music editor really capable of all that for only $59? Find out what I think in my Hands On Review of Guitar Pro 5.
The Planet Waves Multi-Function Tuner
Most tuners do one thing, and do it well. What about a tuner that's called a Multi-Function Tuner? Could it live up to its name? Is it the equivalent of a Swiss Army Knife Waves' in the tuning world? If so, can it really do each function well? Find out in our Hands On Review of the affordable PW-CT-02.
The Planet Waves Circuit Breaker Cable
Planet Waves' Circuit Breaker cable has a built-in mute switch to save your equipment from loud pops and squeals when you change guitars with a live equipment. Nice, but how is it in use? This Hands On Review answers that question.
The Planet Waves Pedal Tuner
This comprehensive review of the Planet Waves Sweep/Strobe Pedal Tuner (PW-CT-04), looks at packaging, instructions, operation, and includes tips on use, details of connections, and more...
The Tru-Strobe Tuner
The True Strobe tuner from Planet Waves is one of the most accurate on the market, but how easy is it to use? Is it the right tuner for you? Find out in the latest Hands On Review...
The Planet Waves Chordmaster CTM
The Planet Waves Chordmaster Tuner Metronome (CTM) is the follow-on to their popular pocket chord dictionaries. Is it worth the upgrade? Find out in the Chordmaster Hands On Review...
Roland BOSS DR-880 Rhythm Machine
If you're ready to jam or play live, but don't have a drummer (or bass guitar player) handy, a box like the BOSS DR-880 may be the perfect solution. With built in drum patterns, editing, song construction, guitar amp simulation, is this the perfect accessory for you? Find out more in the BOSS DR-880 Hands on review...
The Zoom H4 Recorder
The Zoom H4 is a palm-sized multi-funtion stereo recorder packed with useful features for the guitarist. For what you get, it's a very affordable package. Read about the key features, including how to play-along with a sound file in this Hands On Review...
Guitar Hero II for Xbox 360
It's fun, it's loud, and it might just make you feel like a real rock star. But what's it really like to play the game found in arcades and basements from coast to coast? Is it anything like playing a real guitar? Can it help you learn? Maybe. Get the inside scoop on Guitar Hero II for Xbox 360...
Guitar Kickstand
From the "Gee, I wish I'd thought of that" file comes the Guitar Kickstand, from the folks at Sound Innovations. This hands on review looks at installation, use at home and on stage. Is the Guitar Kickstand a great accessory, or one that should be kicked to the corner? Find out here...
The Chord Wheel
One question developing players come up with sooner or later is: why do songs that start with a G chord usually also use the C and D chords? Or, how can I take a song written in one key, and play it in another key? The Chord Wheel explains it all...
Clayton Custom Picks
Whether you've got a band, like to give people little things to remember you by, or want to give a unique gift, custom guitar picks are one way to leave an impression. How hard is it to get a pick with your custom artwork, in a thickness and style you like? Read my Hands On Review of my purchase from Clayton Custom Picks...