Recording Guitar
It's well worth it to learn the techniques for recording guitar. For a modest investment of time and money, you can:
Hear yourself and your instrument with new clarity.
Enhance practice time by playing along with backing tracks or your favorite band.
Share your music with others.
Experiment with numerous simulated amplifiers and effects.
Collaborate with others, even if they're miles from your home.
Best of all... add fun to your learning!
There are a number of methods for recording guitar and storing or processing the sounds. At some point you'll probably want to get them onto your computer. I'll cover four methods that are affordable and popular. I'll also describe some of the most popular products used for recording guitar at a reasonable price.
The Basic Concepts
Any guitar can be recorded. A guitar that is connected directly to your computer, or other recording device, will provide the cleanest sound, but with a microphone you can record any guitar that produces audible sound.
The key to recording, and later processing, your guitar playing is capturing a full, clean sound.
A 'full' sound is one where the vast majority of the original sound is captured. A 'clean' recording is one that has eliminated most noise. Here are a few tips to help you capture the best possible sound:
Capture sound with as much volume as possible, but avoid clipping (clipping occurs when the input level is too high, shown by recording level indicators turning red).
Capture sound at a fast rate, to collect as much sound, and as many subtleties, as possible. CD WAV files, for example, record 16-bits at a time, at a sample rate of 44.1 kHz.
If using a microphone, eliminate as much background noise as possible. Once you've recorded background noise, it can be difficult to eliminate.
Leave some silence at the beginning and end of the recording, it can easily be removed later, but if you cut it too close, you might actually cut off part of your performance.
The easiest and least expensive method for recording guitar is to connect your instrument directly to the Audio-In port of your computer. The Audio-In port is sometimes called Line-In or Mic-In.
Audio-In ports are typically on the side or rear of your computer, often near the Headphones-Out or other sound ports. The Audio-In port is usually identified with an icon such as a microphone or a circle with two triangles on either side (Macintosh). If you have trouble locating the Audio-In port, consult your owner's manual or the manufacturer's web-site.
Example Audio-In Ports on Mac (left image, with circle & triangles icon) and PC (with microphone icon)

To connect your guitar to the Audio-In port you need a special cable or an adapter for your existing guitar cable. Why? A standard guitar cable has a 1/4" phone plug on each end. A standard computer Audio-In port takes a 1/8" stereo plug.
You should also check to see if your computer's audio input jack uses a TS (Tip/Sleeve) connection or a TRS (Tip/Ring/Sleeve) connection. Unfortunately, when you look at the little hole, they both look the same. Read you documentation. If you can't find the answer there, try the manufacturer's web site. If you strike out there, you can still try one cable, then switch if that doesn't work (these cables are inexpensive).
Two other caveats are worth mentioning here. First, any cable that combines stereo into mono is going to either blend the signals or simply drop one. That's not going to give you anything approaching great sound. Second, even if you get the exactly right cable, since this solution lacks an amplifier, what you'll probably get is weak signal and poor recording. Of course, it's still a low-cost way to try out recording!
Radio Shack sells a six-foot shielded cable with a phone plug on one end and a 1/8" stereo plug on the other for about $5. It's a great way to test-drive this type of connection. If this method works for you, you might want to invest in a high-quality cable, such as the Monster iStudioLink Instrument Cable, made specifically for connecting and recording guitar.
1/8" (computer end, top) to 1/4" (guitar end) Cable

Once you have a cable, or adapter, here's how to connect your guitar:
Direct Connection From Guitar To Computer Audio In Port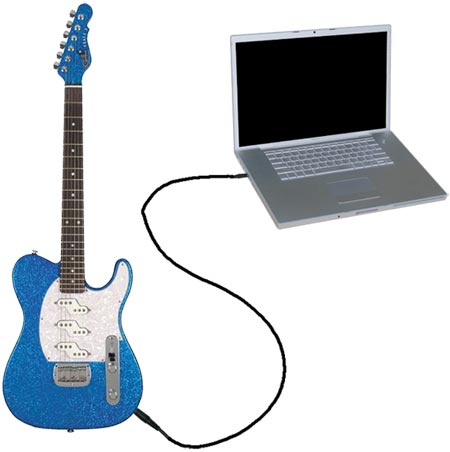 Advantages:
Low-cost

For the connection, all you need is a new cable or adapter. For basic recording, you can use Apple's Quicktime Pro (Mac or Windows) or the Sound Recorder application (included with the Windows operating system).

Easy

There are few components involved, so it's easy to get started.
Disadvantages:
Weak signal

Most guitars produce weak output signals. Standard Audio-In ports are not properly equipped to boost this signal, so it may be hard to hear and produce weak recordings.

Undesired noise

This method is most likely to cause hum (a buzzing sound) or pass along other undesirable noises.

Delay

The analog signal from your guitar must be converted to a digital form at some point: either in an external processor, like a digital amp, or inside your computer. That conversion takes time. How much time depends on what else your computer is doing, and how fast the processor and components are.

Only two input channels

An audio-in port has (at most) two channels. The best you can hope for is one stereo input, or two mono inputs. This is not a problem if all you wish to record is your guitar or two mono devices. If you want to add other instruments, or voice, you may need more.
If you're unhappy with the sound quality from this method, try Method Two for recording guitar, the Powered Audio-In Connection.
Method Two: The Powered Audio-In Connection
A direct Audio-In connection may work for you, but most guitars provide a signal that is too weak, and turning up the volume simply produces hum or other undesirable noises when recording guitar.
To solve this problem you need to boost the signal from your guitar. Any audio device that contains a pre-amp (the first stage of amplification) can boost the signal for you.
Many accessories for guitar include pre-amps, so you might be able to try this improved solution for recording guitar without further expense. Look for any guitar accessory (amp-modeler, pedal, drum machine, direct box) with an output labeled "PA Out" or "Line Out".
Dedicated pre-amps for microphone and guitar are a great alternative. They'll provide all the power you'll ever need to drive the Audio-In port. Price, features, and power vary widely. In general, the best tone comes from pre-amps that use tubes. You'll find great units for as little as $50, or you can pay much more for professional rack-mounted units. Want to see a sample of what's available? Take a look here,
or see my recommendations below.
Here's what a typical Powered Audio-In Connection looks like:
This method provides some important advantages, but does not solve all of your problems.
Advantages:
Better signal

Sufficient input signal for quality recording.

Added capability (varies by component)

Choosing the right accessory can give you additional flexibility and capabilities when playing, including: amp simulators, drum machines, tuners, multiple inputs.

Modest Investment

A setup like the one shown (not including guitar, cables, and computer) can cost as little as $30.
Disadvantages:
You're still limited to two input channels

Since the Audio-In port is the bottleneck in the connection, you still have only two input channels for recording guitar and other instruments (the left and right stereo-in channels).

Delay

The signal is improved by your pre-amp device, but latency (delay) probably is not.
Methods three and four solve both of these problems.
Method Three: An External Digital Recorder
Products such as the Zoom H4 Handy Recorder and the Boss Micro BR Digital Recorder make recording guitar (or any other sound) very easy.
Carry one of these (or similar portable recorders) with you. When you're ready to record, pull it out and switch it on. Record your band, your professor, your practice session, and more. When you get home, connect to your computer and transfer the files. It's that easy.
In addition, these recorders offer many additional features, such as:
Multi-track recording: Record up to four separate tracks of sound.
Direct-connect Recording: Guitar or Microphone
Expandable Memory: up to 1GB for the Boss unit, 2GB for the Zoom
Amplifier Modeling and Built-In effects
Portable Drum Machine (Boss only)
Sound File Playback and Slow-Down: Practice to favorite songs or playback your practice session (Slow-down on Boss only)
Pre-Amp: USB Direct Connect Audio Pre-Amp & Interface (Zoom only)
Built-In Tuner: Chromatic tuner for guitar or bass
Built-In Metronome (Zoom only)
Advantages:
Simple!

No special cables needed for recording guitar. Plug, play, record, then download at your leasure.

Portable

Small enough to fit in your gig bag, your guitar case, maybe even your pocket.

Tuner Replacement

Put one of these in your gear bag, and take your old tuner out.

Effects On The Go

Use the built-in guitar effects, microphone effects (Zoom only) or drum machine (Boss only) to enhance your recording, or just have fun.

Recording & Post Processing Software (Zoom only)

Zoom includes the limited edition of CUBase software (Windows or Mac) to edit your sound files.

Multi-track recording

At least four tracks, with more possible through 'virtual tracks' (Boss only) or editing on your computer (both).

Stereo Microphones For Recording (Zoom only)

Studio quality X/Y pattern condenser mics.
Disadvantages:
First Generation Products

Many reviewers report great results, but first generation products may create more problems then established versions.

Memory Cards Add Cost

Prices for memory cards are falling all the time, but adding more memory will drive up your cost.
Method Four: The Powered Digital-In Connection
The best method for recording guitar with your computer is to eliminate the analog components and connect digitally. Here's what you'll need:
A Pre-Amp'd device with USB or Firewire output.
A USB, Firewire, or Digital I/O (S/PDIF) cable.
A USB, Firewire, or Digital I/O port on your computer.
The connection looks nearly the same as for Method Two, above. You'll connect your guitar to the pre-amp'd device, then connect that to your computer. The difference is found in the cable that connects to your computer. Instead of using an 1/8" stereo in cable, you will use a USB, Firewire, or Optical cable. The specific cable depends on the pre-amp you purchase and the ports available on your computer (make certain they match).
These devices are quite affordable. Most provide multiple inputs, many can power dedicated speakers for monitoring, and they frequently include numerous sound effects and/or sound-processing software.
Products range from all-in-one cable devices to powerful systems that produce crisp, clean sound when recording guitar. You can see samples of popular interfaces here.
Advantages:
Digital Input

A digitized copy of your guitar can be stored, copied, modified in numerous ways, and easily shared with others.

Reduced Latency

Latency is the amount of time required to convert your guitar's analog signal to a digital signal. When recording guitar to a computer, you want as little latency as possible. Because the external device is designed to convert your guitar's analog signal to digital very quickly, the signal is available to your computer almost instantly.

Powered speaker outputs

Many of the devices for digitizing your guitar signal have outputs for monitoring sound with external speakers.

Headphone Output

Another common feature is a headphone output, for when you wish to work without disturbing others.

Multiple Input Channels

You can connect many inputs, including MIDI instruments, with some of these devices.

Other Specialty Features

These devices not only make it easier to record guitar on your computer, they offer a wide variety of special features, including: amplifier modeling; balanced output (for direct connection to PA systems); MIDI input; looping; built-in metronome and/or tuner; modeled pedals, special knobs and controls for working with sound-processing software; and, most are compact for travel.

Digital Sound Parameter Control

It's true that you'll need to play with the various digital sound parameters (such as bit-rate and sampling rate) to determine the best sound for you, but with an external box you control these parameters, not your PC's sound card.
Disadvantages:
Less Portable

Your setup is only as portable as your computer. If you have a laptop, you might be able to take this on the road, if not, it's a home-based solution.
Finally, The Software For Recording Guitar At Home
Once you have chosen your connection method, you need software to capture your sound.
I have to be honest here, you can probably find a better list of solutions by using your favorite Internet Search Engine to look for "guitar record software" or some similar phrase. However, I will briefly cover a few popular options.
Mac Solutions
Here are a few software recording packages for those who use a Mac:
Garageband: As I write this Garageband '09
is the latest version. Garageband is one of those oddities of software... you can not go out and purchase Garageband by itself. Instead, it is part of a package of products called the iLife suite.
The iLife suite includes four 'life-style' products in one package: iPhoto (organize digital images, automatic facial recognition, organize albums, share with Facebook or Flickr, and much more); iMovie (import, edit, organize, and share video); iWeb (simplified website design) and; Garageband.
Logic Express or Logic Studio: These programs, also from Apple Computer, offer increasing levels of capabilities as your needs grow.
Logic Express
streamlines the technical side of things, so you can record, edit, and mix it, too. Easily put the the most advanced audio tools to work while integrating with Garageband. You get over 70 studio-quality effect plug-ins, including vintage and modern compressors, delays, reverbs; 25 legendary amps and 25 speaker cabinets emulators; 30 virtual pedals; templates to quickly begin your project. Logic express is an affordable, yet powerful sound editor.
If you find Logic Express limiting, then step up to Logic Studio.
Logic Studio is a complete set of professional applications to help you write, record, edit, mix, and perform. It includes 20,000 royalty-free sound loops to get you started; Amp-Designer to create 25 legendary amplifier sounds and 25 classic speaker cabinets; 30 virtual pedals; and the Mainstage module for live performances.
Mac Or Windows
If you want to move away from Apple products, or if you use the Windows operating system, Steinberg's CuBase has a solid reputation with its users. You can choose the package you prefer based on your budget and the capabilities you seek.
Cubase Essential 5
is hardly a limited, beginner package, but it is the entry level version of Cubase for those who wish to dip their toe in the water before jumping in with both feet. You get an easy, intuitive approach to composing, recording, editing, and mixing. Cubase Essential 5 uses the same user interface and award-winning audio engine as the more expensive Steinberg Cubase products.
Cubase Studio 5
is the next step for studio or creative musicians. Based on the same core technologies as Steinberg's Cubase 5 Advanced Music Production System, Studio 5 gives you many of the same features, such as the new Groove Agent ONE drum machine and Beat Designer step sequencer as well as the new PitchCorrect intonation effect for perfect vocal pitch every time, plus much, much more.
If you yearn for all the state-of-the-art features you can get, take a look at Cubase 5.
This award-winning Digital Audio Workstation (DAW) software package. You get everything included in Essential 5 and Studio 5 plus the revolutionary LoopMash seamlessly blends loops, creating unimaginable variations; enhanced playback editing; much, much, more.
The least expensive way of recording guitar to computer is to connect it directly. You need only a cable with a 1/4" male plug at one end and a 1/8" male plug at the other. You can also use a standard guitar cable with a 1/4" to 1/8" adapter. However, unless your guitar puts out enough power for your sound card the signal will be too weak for practical use. For more information, see Method One, above.
To effectively use an Audio-In port, place a pre-amp between your guitar and the Audio-In port. You'll still need a 1/4" to 1/8" cable, or an adapter. You'll be rewarded with great signal strength, but may still encounter problems with latency and you can use only two input channels at a time. For details, see the write-up of Method Two.
By using an external digital recorder for recording guitar, all of the timing and connection problems are solved, but at the expense of introducing a dedicated device that may, or may not, live up to your expectations. Still, these new devices deserve strong consideration, thanks to their versatility (especially the Zoom H4), and their presence in guitar cases around the world will almost surely increase. For more information see the details under Method Three.
The best method for recording guitar to computer is to use a pre-amplified device with a digital output. You can find devices with USB, Firewire, and Optical outputs. You'll need to ensure that your computer has an input port that is compatible (nearly all computers now have USB, many have Firewire, and the latest multi-media systems include Optical I/O ports. Search for products with "Digital S/PDIF"). You'll benefit from near zero latency, great sound, multiple channels, lots of control over the quality of signal. Plus, many of these products ship with software for recording, effects processing, and amplifier simulation. Read more about Method Four above.
Recommendations

Recommended Products for Recording Guitar

| | |
| --- | --- |
| If you want a portable solution, I recommend the Zoom H4. It's packed with features at an affordable price. You can direct-connect up to two devices (such as one guitar and one microphone), record using the built-in X-Y microphones, or a combination of each. | |
| Line 6 has a line of affordable Pocket POD's featuring effects, I/O ports, software for sound processing, and more. Pocket-sized but packed with value. | |
| The Lambda USB Desktop Studio from Lexicon packs loads of inputs with the key outputs you need: USB, audio-out, MIDI out. Phantom power, Mix, Monitor, Level controls, Balanced Inputs, Headphone monitoring, and more, for about $150. | |
| For fast sound transfer, firewire is the way to go, and the PreSonus FIREBOX packs a lot of punch for the money. Six inputs, ten outputs, including firewire, that fits in the palm of your hand! Crystal clear preamps, ultra-wide 10Hz-50kHz frequency response, Windows XP and Mac OS X compatible, plus Steinberg's Cubase LE 48-track, 24-bit/96K recording software. | |
| iLife from Apple includes the music generation and recording program Garageband. As a bonus you also get iWeb (web page development), iPhoto (image management), and iMovie (video editing and sharing). For Mac OS-X. | |
| Use Apple's Logic Express to record, edit, and mix your music on a Mac. Open your GarageBand files and get right to work, or start from scratch with a new composition. For Mac OS-X. | |
| Steinberg Cubase 5 is an award-winning complete recording and editing package loaded with amplifier, cabinet, and pedal emulators, plus voice correction (pitch correction), unlimited tracks, MIDI support, custom library of drum kits for fast beat generation include. Much more. For Mac or Windows. | |