Guitar Stand Buyer's Guide
The keys to selecting a great guitar stand are:
Rock Steady... No wobbling allowed!
Low Center of Gravity (free-standing type)... No falling if bumped!
Padded... No scratching or discoloring your guitar finish.
Convenient... It does the job without much trouble.
Free Standing Guitar Stand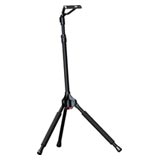 There are two basic types of stands: Free-Standing and Wall-Mounted.
A free standing guitar stand can be setup anywhere there's a little bit of floor space.
Free standing stands tend to have three legs that are very low to the ground. Some use two wide-based legs. Those that support multiple guitars sometimes have very a very wide base with four feet. Each can provide a very stable platform and very low center of gravity. The less portable stands provide neck support, and sometimes a way to secure your guitar in place.
Wall Mounted Stand/Hanger
A wall-mounted guitar stand (or hanger) is really more like a 'guitar hook'. It holds onto the headstock. It's great for displaying your instrument and allowing you to grab it quickly for practice.
You need an accessible open wall to use a wall-mounted 'stand'. They usually install with two or three screws. Make sure you set the screws into a wall stud or a sturdy wall anchor. Choose a wall that is unlikely to see heavy foot traffic or high activity in the house.
Within each basic type you can find variations that support multiple instruments, provide an enclosure for stage and shipping use, provide swivels or locks, even one that provides a useful combination of stands and a foot-pedal board. Many of these variations are only useful after you obtain multiple instruments, or if you start to travel around to play.

Popular Guitar Stands
Free Standing Guitar Stands
Most tripod stands are well cushioned, sturdy, and easy to move around. Look for one with a neck safety strap to avoid accidents.
Wall Hangers
If you've got the right place for them wall hangers are great! They hold your instrument securely, show them off, and it takes only a moment to retrieve them for practice.
3 or 5 Instrument Stands
As your collection grows, or when you get together with friends to play, a multi-instrument stand is just what you need!
Display Cases
Protect and show-off your prized instrument with a premium display case. Easy access when you're ready to jam, with plenty of protection for when you're not.