Acoustic Guitar Guide
Styles, Variations, and Key Features Explained
The first question in this acoustic guitar guide will sound familiar to you, especially if you just read the Acoustic or Electric Guitar page (all about how to choose between an acoustic or an electric guitar)...
I'm assuming that you're here because you've decided to purchase an acoustic guitar, or you wish to know more about them before making a final decision. Either way, you've come to the right place.
There are many types of acoustic guitars. And to narrow down your options you once again need to ask yourself: What type of music do you want to play?
SIDEBAR: There are, of course, other considerations... most of which are covered in the sections of this acoustic guitar guide... but those are secondary to the type of music you plan to play. You expect a specific sound for your favorite music. Your particular playing style will alter that expectation somewhat. If your instrument sounds nothing like what you expect, you will practice and play less.
If you plan to play classical, flamenco, latin, or similar quick-action or soothing toned music, then look for a nylon string acoustic, usually called a Classical guitar. Because I have little experience with classical guitars, you will have to find information elsewhere on how to purchase one (however, our buying advice should still apply).
By the way, just in case anyone asks, another name for acoustic guitars is 'steel string' acoustic guitar. The term 'steel string' comes from the type of strings used.
The remainder of this acoustic guitar guide will familiarize you with various body styles and options. When you complete it, you should have a feel for the right guitar to meet your needs. Once you have read this article, the next step is to read the Buying Guide, to understand a few additional options, to understand the best way to select the right sounding guitar, and to ensure you get a fair deal.
Steel String Body Shapes
Manufacturers make and market bodies with unique names, shapes and design characteristics. The various body shapes evolve over time in search of improved sound, volume, or playability. All these unique sizes and shapes make it more difficult to comparison shop... But, it practically guarantees that you will find the specific sound you want!
There is no organization that defines standard guitar shapes. Still, some shapes have become de facto standards and are produced by a number of guitar makers. Others are commonly used terms. The Acoustic Guitar Guide sorts all this out for you below. The most common shapes, from smallest to largest, are...


Compact, Baby, Backpacker or Travel

- These are small body guitars for smaller players or for packing and taking on the road. Some are scaled down versions of full-sized body shapes. Others are unique shapes. The combination of lower prices, compact size and good sound, makes them a great guitar to have out and around to grab-run-and-play.
00, Concert or Grand Concert - C.F. Martin & Company (aka Martin Guitars) set the standard for identifying guitar sizes by number. These numerical descriptions are sometimes used by others.

Sizes begin at 5 (the smallest) and go up to 0000 for a Grand Auditorium (nearly as large as a Dreadnought). A 00 size guitar is smaller than a 000. which is smaller than a 0000. The number system does not include Dreadnought or Jumbo models. Some of these guitars have 12-frets above the body instead of the 14 found on other models and on larger instruments. So, even though the term Concert or Grand Concert may bring to mind a large bodied guitar, you now know it's actually more compact than the Dreadnought or Jumbo. This style provides great tonal response across the bass, mid, and treble ranges with reasonable sustain.
000, Auditorium or Grand Auditorium

- Despite it's spacious name, this style tends to have a slimmer waist than the Dreadnought and a slightly smaller body. The result is a guitar that some find easier to handle, with a sound that emphasizes the mid and treble ranges.


Folk, Classic - This is the hardest group to list in the acoustic guitar guide because models referred to as Folk or Classic are available in a variety of sizes. They are usually built to produce tones across the spectrum with reasonable volume and sustain, and are often available in a cut-away version with built-in electronics for amplifying sound.
Orchestra Model aka "OM"

- Originally developed by Martin by shortening the body of their 000 model. (The Martin OM later became the Martin 000, so today's OM's are based on the original.) The Martin OM was one of the first mass produced guitars with 14 frets above the body. Though originally designed for classical players, it quickly gained popularity among cowboy and bluegrass performers.
Dreadnought - The most popular body sold.

A large body guitar producing booming lower and mid-range tones, as well as great sustain and volume. Due to the size of this instrument, it may not be a good choice for smaller framed beginners. It is, however, very popular for it's sound, especially among country and western performers.


Jumbo

- Yes, it really is a larger bodied guitar, producing great power in the lower ranges, as well as great sustain and volume. Again, this may not be the right guitar for a beginner, or small framed player.
Variations...
We're not talking about the numerous minor variations used manufacturers to distinguish their product from all the others. This part of the Acoustic Guitar Guide briefly discusses standard variations.

Acoustic/Electric - If you plan to amplify your guitar, then get a model with electronics built in. Yes, you can add them later, but systems built-in by the manufacturer have been built and calibrated for that specific instrument. You might find after-market electronics with better specifications, but it's unlikely that they will match or install perfectly into your guitar.
The Cutaway - Most acoustic guitars are available in a cutaway version. The cut, literally the decorative removal of a portion of the body, allows easy access to the upper-most frets. It will affect the tone and volume to some degree, but this option is very popular.
Cha-Cha-Cha-Cha-Changes...
Manufacturer's make changes to the standard body styles to appeal to differing visual and tonal tastes. They offer six or twelve string models. Some models will offer twelve frets above the body, some fourteen. There are decorative touches galore, as well as a wide variety of woods and finishes available. To cover all of them would require a much longer acoustic guitar guide.
Many such options are extras that drive up the price. Whether they are worth the price is up to you. To understand more about them, read our Buying Guide, and visit a guitar shop.
Specific Recommendations
There are a ton of guitars out there, as well as millions of personal preferences. That makes specific recommdations hard. However, I did not want to close out this acoustic guitar guide without mentioning two highly respected acoustic guitars to consider. Either one will give you a great starter guitar. In addition, even when you become a much better player, you probably will not want to part with these affordable acoustics.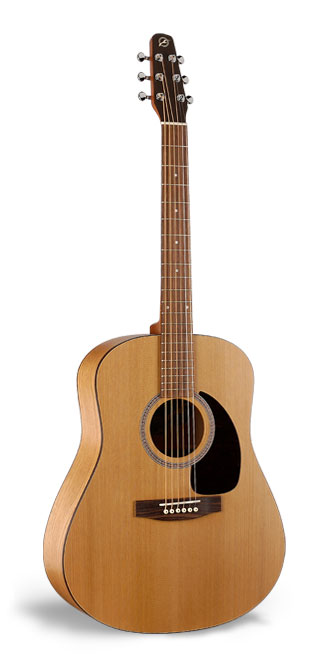 The Seagull S6 - Seagull Guitars has been making fine, affordable, acoustic guitars since 1982. Over the years they have build a solid reputation for producing excellent sounding instruments at reasonable prices. They offer a variety of body styles, woods, and finishing touches. They also sell guitars with electronics if you expect to amplify or record your guitar. For those of you who play left-handed, they make two of their most popular guitars available for you.
The Seagull Original S6 model
is also known as their Original model, and is a great guitar for beginners or intermediate players. This guitar feels great and sounds very nice. The fingerboard is made of rosewood. Seagull uses wild cherry for the back and sides along with a solid cedar top. The tone is sometimes described as crisp and warm.
If you need electronics, you can get a model with their Q1 electronics package built-in. The S6 sells for just under $400.
The Washburn D10S.
The Washburn D10S is a recommendation in our acoustic guitar guide, and many guitar entheusists agree with us. Acoustic Guitar magazine, for example, voted it the #1 acoustic guitar in the under $500 catagory. That is quite an endorsement! Others have called it "the best guitar I've found" in the under $500 range, and an "awesome guitar" with an "awesome case". In a Smart Money magazine article, Jeff Daniels calls the Washburn D10S "a steal!" for the combination of features and price.
The Washburn D10S is a dreadnought style acoustic with a solid Alaskan Sitka Spruce top, mahogony sides and back, rosewood fingerboard, bone nut and saddle, and a neck of satin finish mahogony that some say feels as easy to play as an electric guitar.
The D10S is available for left or right handed players and comes in natural finish, natural satin finish, or black.
Amazon.com has a selection of the Washburn D10S and comparable models
that you can review. Some are available with free shipping for Amazon Prime members.