A Multi Function Tuner
From Planet Waves
If the designers of the Swiss Army Knife had a passion for guitar, I imagine they would have designed the Multi Function Tuner from Planet Waves.
Lucky for us, someone at Planet Waves knows the value of building utility into a tuner, and this pocket-sized device is packed with value. Imagine holding in the palm of your hand a tuner with all these features:
1/4" instrument cable input for direct-connect tuning
Condenser mic for audible tuning
A piezo sensor for vibration-detecting on-instrument tuning
A clip-on bracket for headstock attachment
A hang-it-on bracket for soundhole attachment
An output jack for pass-through to your am or PA system
A compact rotary display for easy sweep or strobe tuning
Simple instructions embossed on the back of the tuner
A long-life compact battery, included
But how well does this tuner perform? After all, value without performance is useless. Let's take a look at the Multi Function Tuner in action.
One Button Control
At the center of the rotary display one of only two controls you need: the on/off/mode button. It easily cycles through these easy-to-identify modes: Activate Sweep Mode; Activate Strobe Mode; Off. The only other button on the Multi Function Tuner is the Frequency Adjustment button, located on the side. More on this in a moment. For now, let's look a bit closer at each of the tuner modes.
Sweep Mode: The first time you press the mode-control button at the center of the rotary display, sweep mode is activated. In sweep mode, lights sweep back and forth to indicate when the note is sharp or flat. Most electronic tuners operate in this mode, either using lights or digital needles. When in tune, the note name is displayed in green. Red lights to the left of the note name means the note is flat. Red lights to the right of the green note name means the note is sharp.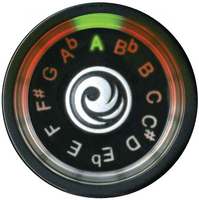 Strobe Mode: I prefer to use the strobe mode, which operates on the same principle as high-quality turntables of the 1980's and 1990's. As long as you're not perfectly in tune, red lights march around the dial. If they move clockwise, your note is too sharp. If they move counter-clockwise, your note is too flat. When the red light stops, you're in tune. All the while, the note name is clearly illuminated in green.
Frequency Adjustment: For those times when standard tuning isn't what you need, you can easily alter the reference pitch of this tuner from +/- 5Hz (from A435Hz to A445Hz). Simply press the FREQ button on the side of the tuner to cycle through 1-cent increments. For easy reference, there is an Hz scale on the back of the tuner.
Operating Options
Just like the Swiss Army knife, the multi function tuner is truly flexible. You can use the built-in microphone to tune a classical guitar, or any other instrument that does not have a 1/4" output.
For use in noisy environments you have multiple options:
Direct connect a 1/4" cable for silent tuning.
Direct connect a 1/4" cable, then run another cable from the tuner to your sound equipment for pass-through tuning.
Clip the tuner to your headstock (or other location) to use the built-in piezo sensor.
Hand the tuner from your sound-hole to to use the built-in piezo sensor.
Now that's true flexibility!
Accuracy
A flexible tuner is no good if it's not accurate, and the Multi Function Tuner is. In fact, it's rating of +/-3 cents is identical to the accuracy offered on the Planet Waves Pedal Tuner (model PW-CT-04), which retails for $129.99. For you, this means outstanding accuracy at a fraction of the cost.
More than Just Guitar
Just because I used a guitar for my hands on tests, doesn't mean you have to. This tuner can assist you with tuning any instrument that generates sound. Banjo, violin, mandolin... the list is too long to go on.
Hands On Experience
I used this tuner with an acoustic-electric for several days. I found it to be quick to respond and easy to operate.
Changing modes is a simple press of one button. The tuner gives visual indications of which mode it's in (lights sweep back and forth to indicate sweep mode, lights run around the display for strobe mode, and lights close in on A from both directions to say "good-bye").
Using the built-in mic and direct connecting a 1/4" plug both gave instantaneous responses.
Clipping the tuner to my headstock gave instant response for all but the lower E string, which occasionally hesitated for a second or two before registering. Overall, though, all modes quickly jumped into action. The slow response with the piezo sensor and the low E string could have been caused by harmonics, or by the large humidifier running next to where I practice.
Overall, I'm delighted with this multi-function tuner. For the price, especially considering it's very compact size, it's worthy of consideration for anyone's kit.
Cost
The Planet Waves Multi Function Tuner (PW-CT-02) has a suggested retail price of $65.99, but can be found for much less from reliable vendors, such as Select Sounds LLC.
More Information
If you'd like to read a PDF copy of the instruction manual to learn more, simply click here.