The Circuit Breaker Cable
from Planet Waves
The Problem
If you use an amplifier, plug into a PA system, or personal computer, you should consider purchasing a circuit breaker cable from Planet Waves.
One experience all guitarists share is the annoying, and potentially damaging, pop and crackle caused by plugging into or un-plugging from active equipment.
If you're wearing earphones such sounds can be annoying, or damage your hearing if the volume is turned up (never do this!). If you plug your cable into your guitar while the amp is turned on, you can damage the speakers. It's bad enough to destroy your own stuff, but it's embarrassing and potentially costly if you do it in a hall, church, or recording studio.
The Solution
The folks at Planet Waves have solved all of these problems with one great cable: the Planet Waves Circuit Breaker Cable, available in a variety of lengths (10, 15, 20 or 30-feet) with either two straight plugs, or one straight and one angled.
Planet Waves Circuit Breaker Cable In Use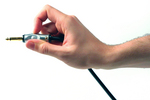 This cable includes a mechanism that acts like an On/Off switch. This on/off switch is located right on the connector collar, so you don't have to fumble around to find it. As you grab the plug, you're naturally placing you fingers right next to the switch.
Press the switch once to turn the cable off. Press it again and it silently springs to life. (Note: IN is ON, OUT is OFF.)
In Use
In testing the cable, I used it on stage one weekend. In this particular setting I need to plug in live. In the past, if the sound team wasn't in sync with the actions of myself and the other guitarist on stage, we (and the audience) were met with popping and cracking sounds that could make anyone sit up and take notice.
This time I silently plugged the Planet Waves cable into my guitar and pressed the switch under my thumb. It was as though the sound system were turned off. The cable created absolutely no sound as I prepared to play.
Full Feature Set
Even without the circuit breaker capability, this is a very nice cable, featuring:
24-karat gold-plated 1/4" plugs to provide an extra clear signal and resist corrosion
Patented compression-springs for a tight, static-free connection into the jack
Conveniently located on/off switch with no springs to wear out
Can be activated quickly and silently for switching cables or for taking on-stage breaks without creating undesirable noise
Includes 3-pairs of color coded O-Rings for identifying your cable
100% shielded cable
Guaranteed by Planet Waves for life
The Planet Waves Circuit Breaker Cable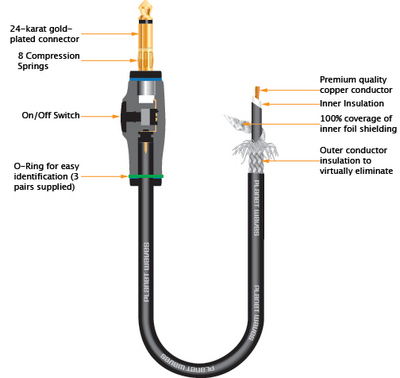 Bottom Line
This fine cable from Planet Waves has quickly become my preferred guitar cable for it's ability to prevent problems and minimize noise. Extras like O-rings, spring compression, and gold-plated connectors (available in straight or right-angle) make this quality cable almost irresistible.
Get One At A Very Special Price
These cables are stocked at many online music stores and may be available at your local guitar shop. The suggested retail price for the 20' length is $49.99. Street prices are typically lower. Check, for example, the listings of Select Sounds LLC for the latest price.